Virtually every kitchen has one, and yet most homeowners wish they didn't. What am I referring to? The dreaded corner cabinet!
Corner cabinets, especially base cabinets, are often called the Bermuda Triangle of the kitchen. It's where mono-tasking appliances, football-shaped cake pans and anything else not used frequently finds its final resting spot.
Technically, it's understandable why corner cabinetry has gotten such a bad reputation. First, a person's comfortable reach is a bit under two feet. To touch the farthest reaches of a corner cabinet could well be half again as much, requiring you to stick your torso into the cabinet. That's no fun!
And there's another problem. Because corner cabinet doors are often obstructed by the angle, it can be very difficult to see into the farthest recesses of the cabinet. You can't grab what you can't see!
But don't worry. There are a number of brilliant ways to make great use of the corner storage space. Below, you'll find some of my favorite solutions at various price points. And if you live in the Harrisburg or Hershey area, come visit our showroom where you will find several solutions incorporated into our kitchen vignettes. You should touch, feel and pull on a corner cabinet solution to know if it will work for you!
NEW for 2023 Quarter Door Susan And Sliders for the Dead Corner
We're just finishing up a new kitchen here in Harrisburg and wanted to highlight what we think is a thoughtful solution for the dreaded dead corner for kitchen cabinetry. As the photo highlights attached to the door is a "Quarter Susan" or a rounded shelf that's perfect for lighter items. Once the corner cabinet door is opened, two stacked sliding drawers that reach all the way into the back of the corner are revealed. Appliances, pots and pans can be easily reached by simply sliding out the drawers. This corner cabinet solution is a Mother Hubbard's Signature Cabinetry line exclusive and I'm confident we'll be installing a lot more of these in 2023!
Pluses:
Utilizes all of the space in a dead corner.
Slide-outs can handle heavy items like appliances and cast iron pots
Minuses:
Storage attached to the door is best only for light items
A small amount of space is still lost because of the quarter susan
Designing Away the Dead Corner Cabinet
At Mother Hubbard's, one of our favorite techniques is to use design to overcome the problems with corner cabinetry. The challenge with a corner cabinet stems from the hard, 90-degree angle that elongates the space between the front and back of the corner. A smart designer can minimize the dead space by changing the single 90-degree angle into two 45 degree bends. As the featured image at the top of this post highlights, not only does this offer better access to the corner storage, it also opens up design possibilities. Indeed, we're fans of unique accessories such as wicker baskets on sliding wooden pull-outs or a corner sink like our York PA project shown here.
Pluses:
Can be designed into a remodeling project at a reasonable cost
Provides an opportunity for design creativity and individuality
Frees up floor space and can eliminate cumbersome corner doors
Minuses:
Some dead space in the deepest part of the corner still exists
Not appropriate as an aftermarket solution
The Lazy Susan
It will come as no surprise the one of the simplest and most affordable solutions is the Lazy Susan. Two or three round trays attached to a rotating pole, the Lazy Susan offers fairly easy access to light items that sit on the trays. It's a workable solution, but it's far from perfect.
Pluses:
Inexpensive
Universally available
Minuses:
Doesn't make the best use of the corner space
Often cannot hold heavy items
Prone to breaking largely because of use of inexpensive parts
The Super Susan
Like its cousin, the Lazy Susan, a Super Susan utilizes a round tray with a pie-shaped cut-out for the corner. However, Super Susan's are supported by a fixed shelf and rotate on a ball bearing turntable. The advantages are much improved durability and the ability to hold heavy objects.
Pluses:
Moderate expense
Widely available from cabinet manufacturers
Can hold heavy objects
Minuses
Doesn't make the best use of the corner space
Requires an articulated door that can bang adjoining cabinetry
Swing-Out Cabinets
Swing-out cabinets have been around for a while, but it wasn't until Häfele came out with their LeMans Corner that the reputation and reliability of swing-outs grew. Like a Lazy Susan, the Häfele corner shelves are pole mounted. Unlike the Lazy Susan, the supporting pole is mounted on the vertical interior of the cabinet providing a level of stability that allows them to carry heavy objects.
The Häfele swing-out is also unique in that it works with a standard door, eliminating the articulated bi-fold doors that some find objectionable.
Recently, several manufacturers, including Rev-a-Shelf, have designed swing-out cabinets that don't just pull out – they pull away from the cabinetry. These complex push-me, pull-you mechanisms seem more appropriate for industrial application, but if you want to utilize every square inch, they're worth considering.
Pluses:
Makes excellent use of available space
Can carry heavy loads
Offers easy, unobstructed access to items
Can be installed as an aftermarket option
Minuses:
Pricing for swing-outs and pull-outs start at $500 and move quickly higher
Pull-outs require an articulated door that can bang adjoining cabinetry
Reliability of pull-outs is still an unknown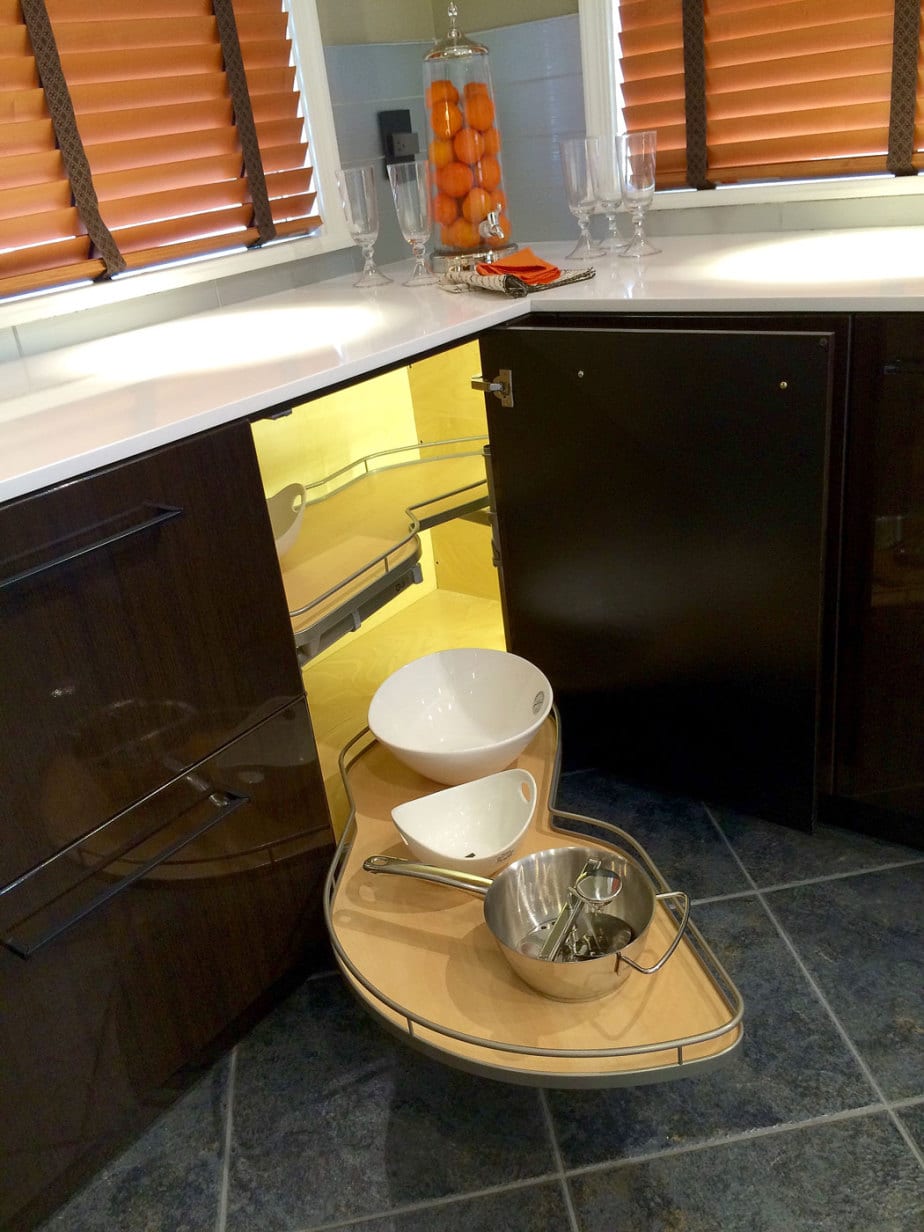 Chevron Drawers
Chevron drawers are making a comeback. If you haven't seen a set recently, here's a good sample pinned by Katie Bosch in her Houses Pinterest board. There is certainly a uniqueness to the chevron drawers that is appealing, but I wonder if that appeal would wear off with daily use. You still have wasted space in the back of the cabinet, as it's normally only the drawer front that has the unique shape. And where the sides of the drawer come to a very acute angle at the corners, it's just not the most usable space. Think about how dust and little-bits collect in the corner of your standard drawers. Now, imagine if that corner came to a tight point. And clunking a hip with that sharp edge?  No thank you!
Nonetheless, style does count, so here are my thoughts on Chevron drawers.
Pluses:
Provides an opportunity for design creativity and individuality
A sturdy solution for heavy items
Additional drawer space in a kitchen where it's limited
Minuses:
Some dead space in the deepest part of the corner still exists
Not appropriate as an aftermarket solution
Might be cumbersome for every-day use
The Right Corner Cabinet Storage Solution for Your Home
No matter what solution you choose, know that your kitchen Bermuda Triangle can be tamed by utilizing one of our recommendations above. There are many other potential solutions to improve the use of your corner cabinet space. Come visit us in our showroom to discuss the possibilities or hit the chat button on the right and we'll offer some expert advice at no cost.