Selecting Cabinetry for Your Remodeled Kitchen
In most kitchen remodeling projects, cabinetry will reflect 25% to 45% of the budget, depending upon the brand, quality, details and finishes chosen. For that and many other reasons, becoming a cabinet-savvy consumer is a must.
There are a number of ways to tackle the discussion of cabinetry and most are organized in one of the following ways.
Type of Construction (framed, frameless, door mounting, dove-tails, etc.)
Construction Material (particle board, Plywood, solid wood, laminates, etc.)
Price Point (low, medium and high)
Industry Grouping (in-stock, semi-custom and custom cabinetry)
In-Stock, Semi-Custom and Custom Cabinetry
As an industry, cabinetry manufacturers and kitchen design showrooms generally classify cabinetry as in-stock, semi-custom and custom. We'll use this schema to frame our discussion of kitchen cabinets.
In-Stock Cabinetry
The sizes of in-stock cabinetry are by necessity limited, but it's common to find base and wall cabinets ranging from 9" to 48" wide in 3" increments. Standard cabinet heights are 30" and 36" with above-the-stove cabinets at 12" to 16". The depths of the cabinets are almost always a consistent 12".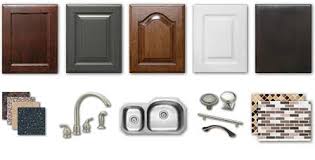 In-stock cabinetry is mass produced and finished, helping to keep costs down. While this can translate into a less durable product, it does not have to. Focus in on the material, type of construction and finish to estimate service life.
Here are the in-stock cabinetry takeaways:
Poor to good construction and materials
Standard sizes for all boxes
No ability to customize cabinet depth and drawer height
Few door styles
Few finishes
Little or no detail and trim options
Immediate delivery
Semi-custom cabinetry is far-and-away the most widely sold category by kitchen designers and showrooms. It is most often made-to-order which means a typical six to sixteen week wait for delivery. At the low end, semi-custom cabinetry is of similar construction and material as an in-stock item, but comes in a wider variety of door styles and colors. At the high end, semi-custom cabinetry uses the same construction and material as custom cabinetry, but is limited to standard sizes, fewer door styles and a more limited range of finishes.
Machine-made to mostly high standards, the longevity of medium to high grade semi-custom cabinetry should be 20 years or more. At this level, the quality rules-of-thumb start to fade. For example, with traditional cabinetry, the type you'd normally find here in Central Pennsylvania, furniture grade plywood boxes are considered superior to boxes made of MDF and laminates. However, well-regarded European manufacturers like Bulthaup use MDF and laminates almost exclusively. And don't look for a dovetail in a Bulthaup drawer, because they are made completely of steel!
So, what should one think about when discussing semi-custom cabinetry?
Good to excellent construction and materials
Standard sizes for most boxes
Some ability to customize cabinet depth and drawer height
Lots of door styles
Lots of finishes
Some detail and trim options
Six to sixteen weeks for delivery
Ordering custom cabinetry is like ordering a wedding gown from Vera Wang. No two dresses or kitchens are ever alike. While in truth even kitchens with custom cabinetry start with standard box sizes, bespoke design and construction is always available. If your designer specifies a 33 1/2" wide cabinet to perfectly fill the spot between the trim work of two windows, you've got it. You love the color sample of the white enamel finish, but want just a hint of blue in it to give it a slightly cooler look? No problem. Wouldn't it be nice if the fluted columns at the corners of your center island were turned just a half inch thinner? No worries, it's just time and money!
Often constructed by hand to your designer's exact specifications, custom cabinets can be built in increments as fine as 1/32". As you might imagine, truly custom work can feature exotic woods, unique glazes and hand-worked finishes. If you walk into the bar at the Four Seasons in New York or the Circular Dining Room at the Hotel Hershey in Hershey Pennsylvania, you will understand how custom cabinetry and woodworking at the highest level looks and feels.
Here's the way we think about custom cabinetry:
Excellent to extraordinary construction and materials
Custom dimensions for any piece
Unlimited ability to customize cabinet depth and drawer height
Unlimited number of door styles
Virtually any finish imaginable
Unlimited detail and trim options
Four to twelve weeks for delivery
It's Not Always One or the Other
A skilled kitchen designer will quickly demonstrate that you're not locked into one category of cabinetry. Many semi-custom cabinet manufacturers offer custom details that can give your kitchen that bespoke feel. For example, legs, aprons and corbels can be chosen and appropriately finished to add a custom touch to standard cabinet bases. Similarly, valences above wall-hung cabinets provide an opportunity to create a one-of-a-kind look to your kitchen.
More than you might imagine, this is where the artistic eye and ability of the kitchen designer can transform stock into something that's uniquely yours. Helpful Resources: